A NerdKit is a combination of electronic parts and wisdom. At least that is what we aim to build from the NerdKits experience. We believe that learning and understanding come from doing and experimenting, but only after reading and studying. A truly rich educational experience requires a mixture of meaningful topics, clear instruction, and engaging projects. We combine these elements together in every NerdKit, and we stand by our customers as they take the leap into electronics.

This NerdKits philosophy is all about education. Our goal is to effectively teach basic electronics, and in doing so unlock the potential of a child's engineering prowess, a hobbyist's weekend dream, or just anyone with a do-it-yourself spirit and imagination.

"Thanks for the help, I really love my NerdKit.. It goes great with my Physics 2 / Computer Science classes, and have told my friends all about it."

-Jason E.
Tallahassee, FL


Watch our TV commercial, as seen on MythBusters and the Science Channel.
---
Recent press/blogosphere articles about NerdKits:

Some of our video tutorials have been transcribed by EMCelettronica.
---
We started NerdKits as MIT students looking to share our experience in an educational way, and to help lower the barrier to entry into this field. The Massachusetts Institute of Technology gave us theoretical preparation, with classes like:
and hands-on experiences, including:
While the sites linked above have lots of good technical information, they're also designed for MIT students with a lot of mathematical background, and are always complemented with textbooks and problem-solving sessions. We've tried to distill that information down in a way that makes it easier to get started.
---
The NerdKits team spent summer 2008 in Jerusalem, teaching Java and business skills to Palestinian and Israeli high school students.


---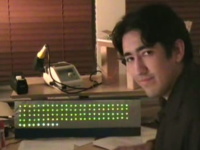 Humberto graduated from MIT with a degree in Electrical Engineering and Computer Science. While a student, he has worked at the MIT Media Lab and NetCracker Technology. He has significant experience in software engineering, and has also completed extensive coursework on digital electronics design.
At NerdKits, Humberto is responsible for the educational materials, making sure our kits are well-documented and easy to use.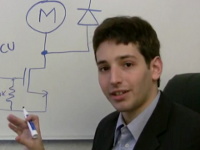 Mike graduated from MIT with a degree in Electrical Science and Engineering, and received his Masters from MIT in Electrical Engineering and Computer Science. He has worked on both the software and hardware aspects of aerial autonomous robotics projects, including work at the MIT Aerospace Controls Laboratory and Draper Laboratory.
At NerdKits, Mike is responsible for technical development of the kits, bringing years of expertise to bear toward making a useful and powerful starter package.
---
Whether you've already got a NerdKit or have a few questions, we're happy to help. Feel free to e-mail us at

.